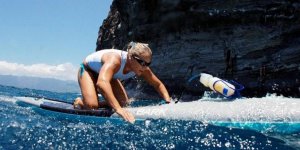 Talk Story at Surfer, The Bar
Talk Story, known in Hawaii as mo'olelo, is the tradition of personally sharing important stories to preserve them for future generations. Talk Story is held Thursday nights (8pm) at Turtle Bay Resort's Surfer The Bar. It brings surfing's legends and their tall but true tales directly to you, as they are told to host Jodi Wilmott.
CMSE Director, Kanesa Duncan Seraphin's Talk Story
Kanesa was invited to do a Talk Story at the opening event for the Women's Pipe Surf and Bodyboard Contest in February 2012. As you can see, she spoke to a packed house! Her reputation as a waterwoman in sport as well as in science and education garnered her the coveted invitation. Kanesa is the the 8x Molokai to Oahu Paddleboard Champion and has competed across the globe in canoe, kayak, paddleboard races. As a bodyboard competitor in the girl's pipe contest, Kanesa was asked to talk about the intersection of her work in the water for sports and for science and education.
During her talk story, Kanesa shared some of her scientific research experience tagging and tracking sharks and other large fish. She also talked about the work CMSE is doing with teacher professional development courses in aquatic science in partnership with the UH Curriculum Research & Development Group (CRDG). Kanesa also previewed the new online Exploring Our Fluid Earth curriculum that is being funded by NOAA exploringourfluidearth.org and in partnership with CRDG. In the last part of her Talk Story, Kanesa spoke to the girls in the contest about following their dreams and shared the NOAA-funded Voice of the Sea television show the CMSE is developing about ocean science careers.
View the VIDEO