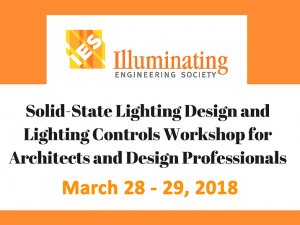 Lighting Workshop for Architects and Design Professionals
Illuminating Engineering Society presents 2-days of immersion into the latest advances in LED lighting design and state of the art technologies, taught by Dr. Jack Curran, a nationally-recognized industry leader.
March 28-29, 2018
8:00am – 4:00pm
American Savings Tower
1001 Bishop St., 8th Floor, Rm 2
Honolulu, HI 96813
Registration deadline: March 20.
Tickets available on Eventbrite.com
1-day Seminar: $60 for non-member; $25 for member
2-day Seminar: $80 for non-member; $50 for member
Students are free
Seating is limited.