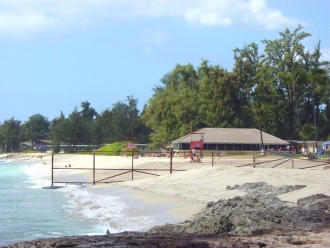 Shoreline Access on Military Property
Public access onto beaches that are within military reservations are controlled by national/homeland security laws that preempt the state laws.
Various beaches throughout the State of Hawaiʻi are restricted by the federal government's preemption by way of the Supremacy Clause in Article VI of the U.S. Constitution.
Military bases also restrict beach access in their own ways.
Some beaches are only for military personnel or authorized civilians.
The military has the authority through federal laws to restrict and deny access to any beaches and shorelines contained within a military base or property.
The military has on occasion opened up some beaches in Hawaiʻi for public access with some restrictions (hours of operation, requiring permits, etc.)
For an example, see the following article:  Public denied access to some Oahu beaches.
Q:  Who can use military base facilities, services, and programs including access to the beaches on base?
A:  Active duty military, military retirees, reservists, National Guardsmen, Department of Defense civilian employees with proper ID cards are eligible to use the facilities, services and programs at Bellows AFS. Authorized users may sponsor family members and friends as their guests.
Disclaimer
With support from the National Sea Grant Law Center, partners from Maine Sea Grant, Maine Coastal Program, The Center for Law and Innovation of University of Maine School of Law, and Island Institute developed the prototype for the derivate site you are now viewing. The prototype has been translated by the University of Hawaiʻi Sea Grant College Program to provide content relevant to audiences in Hawaiʻi. Maine Sea Grant owns the copyright to the prototype site; the adaptations / derivations made here are owned by the University of Hawaiʻi Sea Grant College Program. Neither Maine Sea Grant nor its collaborators are responsible for the content of this derivative Site, including the accuracy of any of the legal information contained in this derivative Site.