Research Projects 2022-2024
Resource habitat mapping and diet characterization of native and non-native mullet species to inform adaptive management in He'eia Fishpond
PRINCIPAL INVESTIGATOR: Shimi Rii
Co-INVESTIGATORS: Rosanna Alegado, Kawika Winter
PI-CASC Graduate Scholar: Sheldon Rosa
Research Track: Aquaculture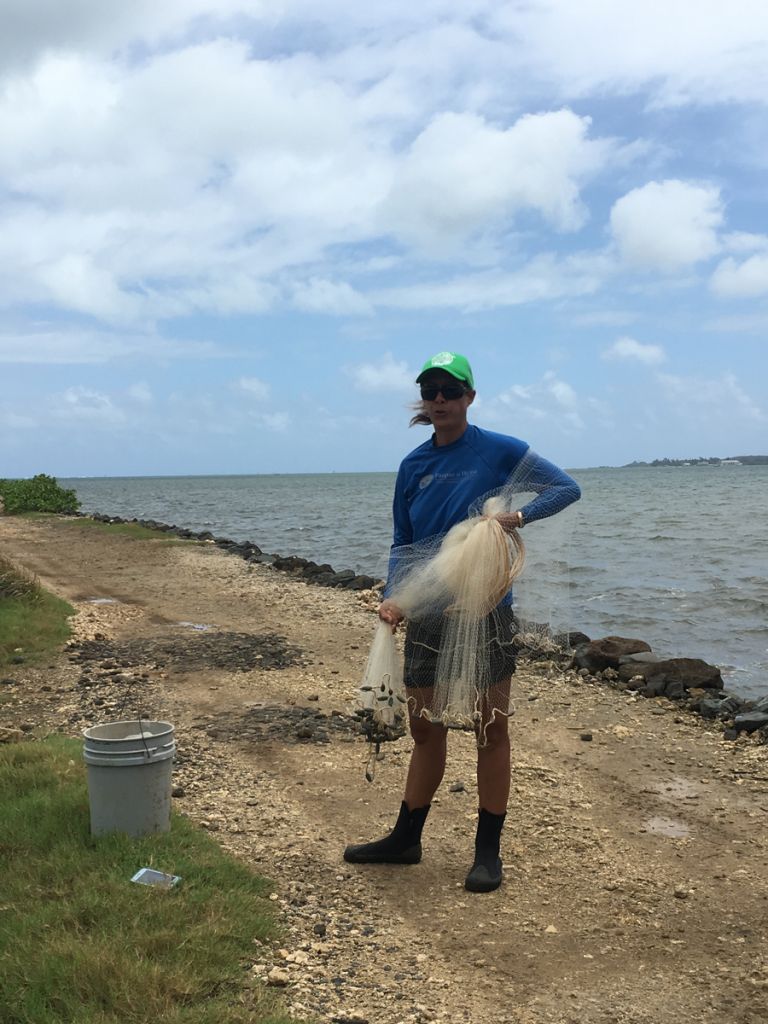 Moʻolelo (Hawaiian oral traditions) speak of Meheanu, the moʻo or reptilian freshwater guardian of Heʻeia Fishpond, who functioned as the bringer of abundance by moving water back and forth to ensure productivity in the pond. To sustain fishpond productivity, Meheanu controlled food web dynamics by promoting the health of key resources, including ʻamaʻama (striped mullet, Mugil cephalus), a culturally, ecologically, and economically important species for Hawaiian aquaculture. Hawaiʻi currently faces serious food insecurity due to a lack of sustainable locally sourced food; however, aquaculture has the potential to meet this need. Native Hawaiian fishponds are unparalleled examples of effective and resilient place-based food systems.
This study, developed in partnership with Paepae o Heʻeia, the kiaʻi loko iʻa or stewards of Heʻeia Fishpond, employs Loina Welo, or Indigenous ways of knowing, to address a key question necessary for current restoration: "What are the ʻamaʻama eating now, and where are their prey found?" By understanding the diet of the native mullet species, we can better determine how their preferred diet might overlap with the diet of an invasive mullet species (Osteomugil emgeli), which have increased in abundance in Hawaiian estuaries. We will evaluate the diet of both species through DNA analysis, and examine different biomarkers to link the fish with their prey and where they are found within the fishpond. Our study was collaboratively designed with resource managers to conduct intentional sampling of fish to avoid disrupting their goals for increasing fishery stock. By utilizing samples previously collected from a prior study, and by working with Paepae o Heʻeia staff to collect samples from fish harvested for staff consumption, we employ a "no waste" model for scientific sampling in partnership with community.
The information generated through this project will guide resource managers as they decide how to continue restoration and rehabilitation of the fishpond. This project will be co-managed through reciprocal knowledge exchange between researchers, students, resource managers, and cultural practitioners. The results of this study will be broadly distributed through an educational journey in the form of field trips mirroring the ʻanae holo, the famous mullet that migrates around the island of Oʻahu. During these field trips, students, practitioners, researchers, and resource managers will exchange knowledge about how to bring abundance back into their coastal ecosystems. Through this work, we will enhance the capacity for sustainable aquaculture and community resilience in Heʻeia as well as across the island of Oʻahu and the broader community of Hawaiʻi.