Cuong Tran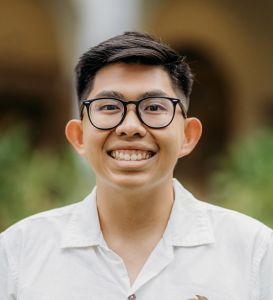 Shayla Waiki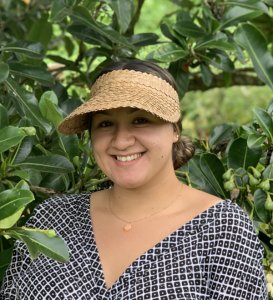 Two Hawai'i Sea Grant fellows gain hands-on policy experience in disaster management, ecosystem restoration
October 21, 2022

The 2022 cohort of Hawaiʻi Sea Grant Grau Fellows will focus on national disaster preparedness and restoring healthy watersheds through Hawai'i-based host offices
(Honolulu, HI) – Two postgraduate fellows from the University of Hawai'i have a unique opportunity to work directly with Hawai'i-based organizations through the University of Hawai'i Sea Grant College Program (Hawai'i Sea Grant) E. Gordon Grau Coastal Resource Management and Policy Fellowship Program (Grau Fellowship).
The paid fellowship, named in honor of Emeritus Professor E. Gordon Grau, Hawai'i Sea Grant's visionary former director, provides students the chance to obtain relevant policy experience in Hawai'i and, for many, to pursue career opportunities in their home state.
Cuong Tran, a recent graduate of the master's program at the University of Hawai'i at Mānoa Department of Urban and Regional Planning, brings his background in helping Hawai'i's diverse communities adapt to the future threats of climate change to the National Disaster Preparedness Training Center (NDPTC). As a first time host office, the NDPTC is a perfect fit for Tran who has been pursuing a career in natural disaster management and climate change mitigation since his undergraduate degree at UH Mānoa helping coastal communities plan for climate change impacts. While a master's student, he worked with the City and County of Honolulu (City) Office of Climate Change, Sustainability, and Resiliency, and began the process to create a Resilience Hub Action Plan for the island of O'ahu with the possibility of creating a statewide plan. In all of his experiences as a student, his focus never waivered from community engagement and improving conditions for island communities.
Shayla Waiki is also fortunate to be gaining invaluable experience in her field of water quality and wastewater management during her fellowship at Wastewater Alternatives and Innovations (WAI), a Hawai'i-based nonprofit organization that works to protect water quality, reduce sewage pollution, and restore healthy watersheds. WAI hosted its first Grau fellow from 2020-2022 and valued both the opportunity to train the next generation of water quality experts as well as the dedication and commitment of the previous fellow, so it did not hesitate to agree to support Waiki. As a graduate of the Tropical Conservation Biology and Environmental Science program at UH Hilo, she studied the connectivity of on-site sewage disposal systems to the nearshore water quality, and plans to combine her research background with the policy experience she will gain at WAI to pursue a career in environmental law.
Hawai'i Sea Grant continually recruits host offices, and any municipal, state, federal agency, or Hawai'i based nonprofit organization that works on coastal or marine research, policy, or management is welcome to apply. Any suggestions regarding potential host offices for 2023 or questions can be directed to Maya Walton, Hawai'i Sea Grant assistant director for research and fellowships, at at waltonm@hawaii.edu or (808) 956-6992.
The Grau Fellowship is modeled after the highly competitive and successful John A. Knauss Marine Policy Fellowship Program which sends recent graduate students to Washington, D.C. for one year to work in either the legislative or executive branch of government. Now, students with advanced degrees from Hawai'i colleges or universities, or local students who are from Hawai'i but obtained their degree(s) elsewhere, have the opportunity to remain in Hawaiʻi to help lead us to a better future.
For more information on the Grau Fellowship visit: http://seagrant.soest.hawaii.edu/about/opportunities/
For examples of current or former host offices for the Grau Fellowship, please visit https://seagrant.soest.hawaii.edu/directory/grau-fellows/
The University of Hawai'i Sea Grant College Program is part of the University of Hawai'i at Mānoa's prestigious School of Ocean and Earth Science and Technology. It supports an innovative program of research, education, and extension services directed to increasing sustainability of coastal and marine resources and resilience of coastal communities of the state, region, and nation. Science serving Hawai'i and the Pacific since 1968.