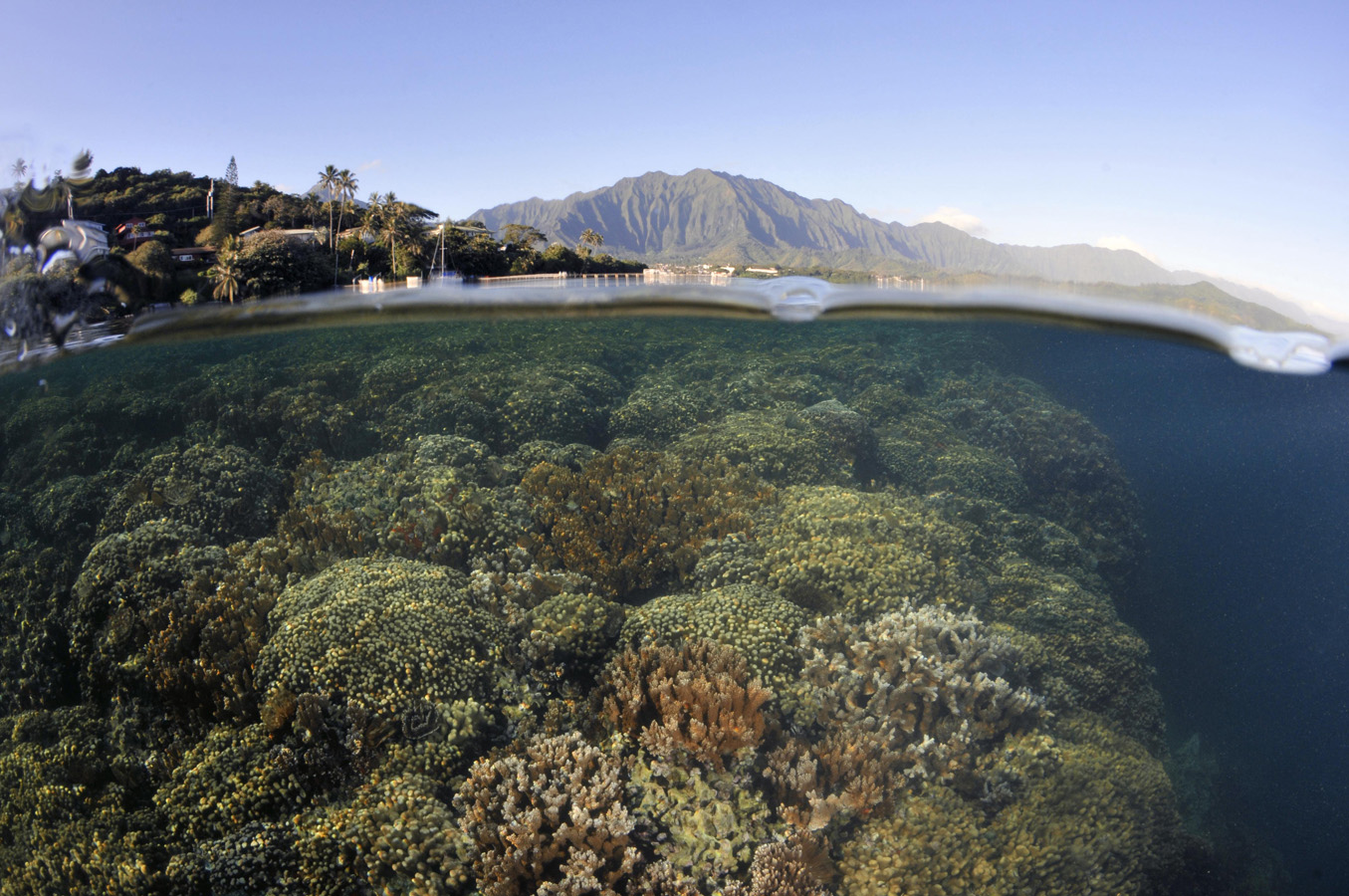 Super corals in Kāneʻohe Bay provide hope for survival of coral reefs around the globe
May 16, 2019
(Honolulu, HI) – A journal article published this week by researchers at the University of Hawai'i at Mānoa's School of Ocean and Earth Science and Technology concluded that naturally occurring super corals in Kāne'ohe Bay, O'ahu are already surviving under ocean conditions that many predicted would decimate all coral reefs on the planet.
The research, funded by the University of Hawai'i Sea Grant College Program (Hawai'i Sea Grant) and published in the "Proceedings of the Royal Society B: Biological Sciences," showed how reefs within Kāne'ohe Bay which were devastated by sewage inputs between the 1930's and 1970's recovered within 20 years after the sewage input was diverted. Amazingly, the reefs recovered while withstanding warmer temperatures and more acidic conditions than nearby reefs outside the bay.
Dr. Christopher Jury, a postdoctoral researcher at the Hawai'i Institute of Marine Biology at University of Hawai'i and lead researcher for this study, noted "I discovered how unique the situation is in Kāne'ohe Bay during my PhD research at the University of Hawai'i at Mānoa. We knew that the temperature and chemistry conditions in Kāne'ohe Bay are very similar to the conditions that people predict will kill corals off globally, yet, the reefs in the bay are thriving, making the area incredibly valuable as a possible window into the future."
Around the world, coral reefs are vanishing at an unprecedented rate. To reverse this trend scientists are working to create super corals that can survive climate change, ocean acidification, and local human impacts. The coral reefs in Kāne'ohe Bay naturally harbor large populations of super corals, which were given the opportunity to recolonize and thrive once the sewage pollution was removed.
Dr. Jury concluded "Over the next 20-30 years, changing ocean conditions and human impacts will have negative impacts on coral reefs. The question is, what happens next? If we ignore these problems then our generation will be the last one to see healthy, functional coral reefs. However, if we take major strides to substantially reduce the rate of climate change, conditions will start to improve. During our lifetime we could begin to see the corals rebound, and our children and grandchildren will witness the recovery of coral reefs because we made the decision that reefs are worth saving."
Contact:
Cindy Knapman
(808) 956-7410
_ _ _
The University of Hawai'i Sea Grant College Program is part of the University of Hawai'i at Mānoa's prestigious School of Ocean and Earth Science and Technology. It supports an innovative program of research, education and extension services directed to the improved understanding and stewardship of coastal and marine resources of the state, region and nation. Science serving Hawai'i and the Pacific since 1968.