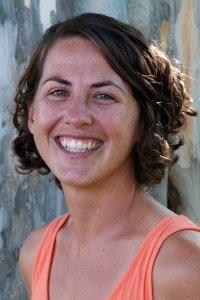 U.S. House of Representatives hosts Hawai'i Sea Grant's 2020 Knauss Marine Policy Fellow
February 27, 2020
(Honolulu, HI) – Beth Lenz, who recently completed her PhD in marine biology at the University of Hawai'i at Manoa, will be spending one year in the U.S. House of Representatives in Washington, D.C. as a John A. Knauss Marine Policy Fellow.
Lenz is one of only 69 fellows selected nationwide through Sea Grant's Knauss Fellowship program.
Lenz began her fellowship earlier this month as a legislative fellow in the Natural Resources Committee's Water, Oceans, and Wildlife (WOW) Subcommitee. This subcomittee is responsible for developing policy and overseeing agencies that manage domestic and international marine resources.
Lenz noted "I am excited to represent Hawaiʻi Sea Grant as a Knauss Marine Policy Fellow and gain invaluable experience in the Legislative Branch. I am grateful for the opportunity to serve on the Water, Oceans, and Wildlife Subcommittee in the U.S. House of Representatives learning how to integrate science and policy in order to protect invaluable marine ecosystems."
Since 1979, the National Sea Grant College Program has provided fellowships working in federal government offices in Washington, D.C. to over 1,300 early-career professionals. The fellows receive hands-on experience transferring marine science to policy and management through one-year appointments.
"With each year and class, we continue to be more impressed with the Sea Grant Knauss fellows. They bring fresh perspectives and experiences to the coastal and marine science and policy work happening in D.C., and they continue to raise the bar for us all," said Jonathan Pennock, National Sea Grant College Program Director.
Lenz's dissertation research studied opportunities for coral reef resilience through sexual reproduction in the Florida Keys Reef Tract and Hawaiʻi. She received a Master of Science in Marine Biology from California State University, Northridge, and a Bachelor of Science in Biological Sciences with an emphasis in marine biology from the University of California, Davis.