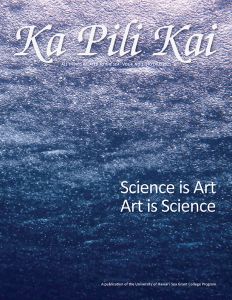 Click on the cover image to view the full issue.
Science is Art
Art is Science

Mai ka moana ākea, nā ʻāina ā puni, ka lewa lani ā ka lewa lipo, ua mālamalama ke ao kānaka i ka wili pū ʻia o ka hana noʻeau me ke akeakamai. Ua paʻa ke kahua i nā kūpuna a na kākou nā mamo o kēia mua aku e mālama a hoʻomau.
Ma kēia helu o Ka Pili Kai, hoʻohanohano ʻia ia pilina ma nā moʻolelo o ka poʻe hana noʻeau, hoʻomākaukau mea ʻai, uluna lole, kumu aʻo, haku mele, akeakamai, a me ka poʻe haʻi moʻolelo mai kekahi kapa ā kekahi kapa aku o ka Pākīpika a ma waho aku. Ke lana nei ka manaʻo, e nanea ka naʻau i nā moʻolelo, a e ulu ka ʻiʻini e holomua ai kā ʻoukou ʻimi naʻauao.
From the vast ocean, the many lands, the highest heavens, and the depths of the sea, the world is enlightened by the collaboration of the arts and sciences. The kūpuna (elders) established this foundation that we the descendants will nurture and perpetuate.
In this issue of Ka Pili Kai the relationship of art and science is honored through the stories of artists, chefs, designers, educators, poets, scientists, and storytellers throughout the Pacific and beyond. We hope that you will enjoy these narratives and that they inspire your own journeys of discovery.
Click here to view the full issue.