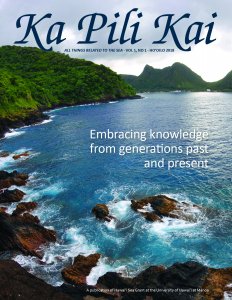 Click on the cover image to view the full issue.
Welcome to our inaugural issue of the new Ka Pili Kai!
Embracing knowledge from generations past and present:
For our dedicated readers who have been receiving and reading our quarterly magazine for many years, mahalo for embarking on this new adventure with us and a big ʻohana welcome to all our new readers. ʻOhana, meaning family, aptly describes the relationships we have built with our communities and partners, who are at the heart of why we have been working so passionately since we opened our doors in 1968.
The title of the magazine, Ka Pili Kai, or "all things related to the sea," has deep meaning for the work we do, so much so that we were determined to maintain the name even while being inspired by the start of our 50th anniversary celebrations to rethink how we present stories and information. During our early years between 1968, when we opened our doors, and 1972, when we achieved college program status, the foundation on which we stand today was built.
We are celebrating these milestone years with special tributes during 2018 to 2022, and our new Ka Pili Kai marks the first of these. Stay tuned to learn about what we have planned for the upcoming years!
The Hawaiian calendar has two main seasons lasting approximately six months each. Recognizing the importance of the Hawaiian calendar and seasonal change, moving forward you will notice on the cover of the magazine, the word Ho'oilo, for the wetter, colder half of the year in Hawai'i, or Kau, which marks the start of the warmer summer months. In each issue you will find our calendar of events appearing on the last two pages and more details on the intricacies of the environment and the lunar phases which have guided Hawaiians for thousands of years.
This inaugural issue is of particular importance in its celebration of people and place across the Pacific region, our deep connection to all things related to the sea, and the imperative to learn from and embrace knowledge from generations past and present.
Me ke aloha pumehana,
(With warm regards)
Darren T. Lerner, Hawaiʻi Sea Grant Director