HANAUMA BAY EDUCATION PROGRAM
CURRICULUM AND TEACHER RESOURCES
Standards based curriculum resources include NGSS, Ocean Literacy and State learning standards are available at Hanauma Bay. Examples of topics are fish biology, coral reef ecology, conservation, geology and Hawaiian culture. Resources include online sessions, pre-visit preparation, and post-visit learning and extension activities.
Hanauma History & Hawaiian Culture
History and place names of the Hanauma Bay area
Place Names of Hanauma Bay Poster
HANAUMA PLACE NAMES VIRTUAL TOUR WEBSITE
Hawaiian culture and marine life conservation
Hanauma Fish Calendar: Na Wa I'a Poster
Nā Iʻa Kapu
Learn about Hawaiian traditions and marine life conservation before your visit to the bay via our online lesson. This lesson includes information about fish life cycles, the Hawaiian practice of kapu, and fish conservation. This lesson is designed to address learning standards for Grades 3-5, and contains valuable information for all ages.
Hanauma Geology Virtual Field Trip Videos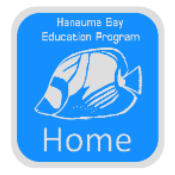 Learn more about the Hanauma Bay Education Program.
Hanauma Bay Education Program
100 Hanauma Bay Rd.
Honolulu, HI 96825
Phone: (808) 397-5840
Email: hanauma@hawaii.edu