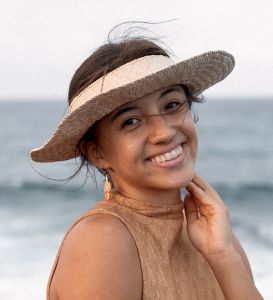 Address:
2525 Correa Road, HIG 239
Honolulu, HI 96822
Kawaiola Kapuni (she/her) is a 2023 Peter J. Rappa Fellow at the University of Hawaiʻi Sea Grant College Program. As a Rappa Fellow, Kawaiola will be working under the mentorship of Katy Hintzen on the Governance Structures and Indigenous Aquaculture Hub. She is responsible for conducting research on indigenous governance, including policy and community organizational structure, in coordination with indigenous methodologies to ensure thriving aquaculture systems.
Kawaiola is earning both her B.A. and M.A. in political science this year at the University of Hawaiʻi at Mānoa, as well as her B.A. in Native Hawaiian studies with a concentration in "Envisioning the Nation of Hawaiʻi." Alongside her academic profile, Kawaiola is dedicated to serving Hawaiʻi's communities through non-profit organizations and independent, indigenous-centered research. Altogether, Kawaiola works to preserve Hawaiʻi's unique and rich environment, culture, and communities.