Multimedia Specialist
Education
BA Radio and Television, San Francisco State University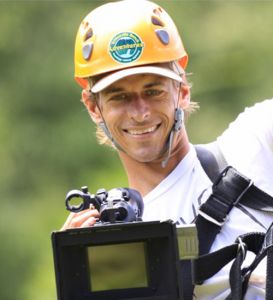 Address:
2525 Correa Road, HIG 239
Honolulu, HI 96822
Thor Seraphin is a Multimedia Specialist with the University of Hawaiʻi Sea Grant College Program, working with a range of groups that include the people, institutions, and organizations that partner with Hawaiʻi Sea Grant. Thor creates Sea Grant promotional video messaging, including public service announcements, and advises Sea Grant staff with media production. Through the regional and online television series, Voice of the Sea, he brings awareness and public engagement opportunities to Sea Grant's mission, work, and messaging, partnering with television stations across the Pacific to air the series. He develops episodes, from concept to creation, as well as promotional and online content, and arranges for archiving and broadcasting of all material. An estimated audience of 25,000 people watch Voice of the Sea across Hawaiʻi weekly, with thousands more views in nations across the Pacific.
Thor has been producing national and regional television in Hawaiʻi for over 25 years. He co-created Voice of the Sea in 2011, in collaboration with Sea Grant Assistant Director for Education, Kanesa Seraphin. Together they have produced over 125 original episodes of the half hour series, which has reached millions of viewers across Hawaiʻi and beyond, and won 40 Telly awards. Thor has been collaborating with Hawaiʻi Sea Grant since he began producing sea-level rise and coastal hazards media in the early 2000s; he joined Hawaiʻi Sea Grant full-time in 2023.