Knauss Fellow 2023
Education
PhD Marine Biology, University of Hawaiʻi at Mānoa
BA Biological Sciences, Environmental Science and Policy Minor, Smith College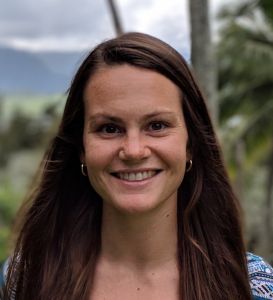 Address:
2525 Correa Road, HIG 238
Honolulu, HI 96822
During her Knauss Fellowship period, Sarah Tucker will join the NOAA Global Ocean Monitoring and Observing (GOMO) Program, an international leader in ocean observations that improve our scientific and societal appreciation of the ocean's role in environmental change. She will work jointly with the Arctic Research Program and communications, where she will support the cross-NOAA Arctic Action Team, work directly with NOAA Arctic scientists to coordinate research activities, engage with the Interagency Arctic Research Policy Committee (IARPC), and contribute to communication materials such as the Arctic Report Card.
As a Knauss Fellow, Sarah is excited to expand her research and communications skills, while strengthening her knowledge of the science-policy interface. She seeks to develop and foster productive partnerships with government agencies, scientists, and local communities to promote national and international Arctic observing networks and increase the resiliency of ecosystems, resources, and communities within the Arctic and beyond.
Sarah completed her PhD in Fall 2022, supported as a National Science Foundation Graduate Research Fellow and a NOAA Margaret A. Davidson Fellow during her graduate studies. She focused on marine microbiology and the use of time-series analyses, genetics and genomics, and cultivation experiments to understand microbial ecology and evolution. Her dissertation work examined the ecological and genomic diversity of the world's most abundant organism: the marine bacteria SAR11. She also investigated phytoplankton communities within and adjacent to the Heʻeia National Estuarine Research Reserve and their roles in water quality and food-web dynamics.
Sarah's interest in ocean science and conservation is motivated by the ability to share its curiosities and importance with others. She is passionate about mentoring, science communication, and capacity building programs.