Knauss Fellow 2023
Education
MS Oceanography, University of Hawaiʻi at Mānoa
BS Marine Science, Minor Chemistry and Marine Option Program Certificate, University of Hawaiʻi at Hilo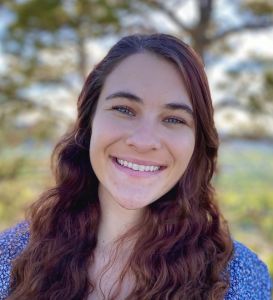 Address:
2525 Correa Road, HIG 238
Honolulu, HI 96822
Gina Selig will be spending her Knauss Fellowship year working as an Environmental Policy Fellow for the National Science Foundation Office of Polar Programs (OPP) which works with other federal agencies and programs to catalyze fundamental discovery and understanding of polar systems and their global interactions. As a member of this supportive team, she will sit at the forefront of environmental policy that governs Antarctica, internationally, and serve on the United States delegation to the Antarctic Treaty Consultative Meeting (ATCM) committee for environmental protection and the Commission for the Conservation of Antarctic Marine Living Resources (CCAMLR).
As a Knauss Fellow, she is excited to be actively participating in the development and implementation of policies that are underpinned by the best available science to ensure continued peaceful and environmentally sound use of the Antarctic region. She seeks to develop an understanding of how research in this incredible ecosystem is supported and how Antarctic research can be translated into actionable and long-lasting change in conservation. During the year, she will have the opportunity to assist in the drafting of management plans for Antarctic Specially Managed Areas, attend the annual ATCM which will be held in Helsinki, Finland, and deploy to Antarctica as part of the U.S. Antarctic Program.
Gina has always had a fascination and passion for extreme environments. Throughout her scientific career, she sailed on multiple expeditions in the Pacific Ocean supporting deep-sea exploration and research as well as hydrographic surveying in remote parts of Southwest Alaska. She is finishing her MS in biological oceanography, which was supported by the National Science Foundation Graduate Research Fellowship Program (GRFP). Her thesis focuses on the distribution and community structure of deep-sea demersal fish communities across the central Pacific Ocean. Prior to her MS, she earned her BS in marine science at the University of Hawaiʻi at Hilo.
Gina looks to this next year with the Knauss Fellowship as an opportunity to diversify her knowledge base in environmental policy, develop and foster partnerships within the polar community, build new skillsets, and apply her science background to work that informs the nation and advances the welfare of all people.