Educational Specialist, Hanauma Bay Education Program
Education
BS Oceanography & Marine Biology, University of Washington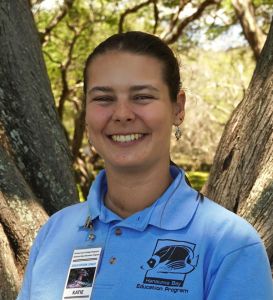 Address:
Hanauma Bay Education Program
100 Hanauma Bay Rd.
Honolulu, HI, 96825
Katie Hearther is the Educational Specialist for the Hawaiʻi Sea Grant Hanauma Bay Education Program (HBEP), which is responsible for coordinating and implementing the on-site visit program and presenting marine education programs to school and community groups as well as groups visiting from out of state. As part of HBEP, Katie also helps to educate the public about Hawaiʻi's marine environment with the goal of enhancing appreciation, and promoting understanding and stewardship, of Hanauma Bay.
Katie has experience working in STEM outreach, promoting gender equity in science and technology. She has conducted scientific research in biological oceanography and marine biology, and greatly enjoys sharing her love for the ocean through outreach and education.