Grau Fellow 2022
Education
MA Urban and Regional Planning, University of Hawaiʻi at Mānoa
BS Global Environmental Science, University of Hawaiʻi at Mānoa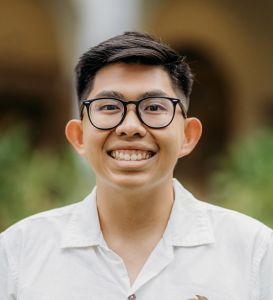 Cuong Tran is a 2022 E. Gordan Grau Fellow with the University of Hawaiʻi Sea Grant College Program, hosted by the National Disaster Preparedness Training Center (NDPTC). The NDPTC is a member of the National Domestic Preparedness Consortium (NDPC), which was expanded in 2007 to address all-hazards capabilities by the addition of the University of Hawaiʻi. The NDPTC is authorized to develop and deliver training and educational programs related to homeland security and disaster management, with a specific focus on natural hazards, coastal communities, and the special needs and opportunities of islands and territories. Cuong is tasked with leading and supporting various local and national projects focused on disaster preparedness, response, and recovery, developing and updating curriculum on disaster and emergency management, and helping with understanding machine learning for risk and damage assessment.
From his undergraduate studies, Cuong found his passion for the topic of natural disasters by learning about the impact of climate change on human and natural communities. Cuong's Master's thesis focused on utilizing the asset-based community development approach to develop the concept of resilience hubs between urban and rural communities. His thesis provided the City and County of Honolulu with valuable research to aid in the creation of a Resilience Hub Action Plan for the island of Oʻahu within the next few years. Cuong hopes to continue to help support the development of Resilience Hubs first on Oʻahu and then statewide.
Cuong is excited to work with NDPTC as a Grau Fellow to continue learning and strategizing ways to help Hawaiʻi's diverse communities adapt to the future threats of climate change.