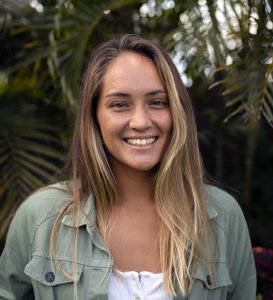 Address:
2525 Correa Rd., HIG 238
Honolulu, HI 96822
Marissa Miller is a 2020 Peter J. Rappa Fellow at the University of Hawaiʻi Sea Grant College Program. Marissa will complete her bachelor of science degree in Environmental Management and Protection with a minor in Indigenous Studies in Natural Resources and the Environment in December 2020 at California Polytechnic State University (Cal Poly) in San Luis Obispo, California. Born and raised on the south shore of Oʻahu, Hawaiʻi, she has been dedicated to nonprofit coastal conservation work since high school. She participated in Kupu's Hawaiʻi Youth Conservation Corps program in 2017 after graduating from Punahou School, and she then interned with Kokua Hawaiʻi Foundation and Sustainable Coastlines Hawaiʻi during the summers of 2018 and 2019, respectively. She has also been president of a student chapter of the Surfrider Foundation for over 2 years while attending Cal Poly. After completing her B.S. degree at Cal Poly, she plans to return home to Oʻahu and continue contributing to efforts towards creating more sustainable and resilient coastal ecosystems and communities here in the islands.
As a Rappa Fellow this summer, Marissa will be working with Sea Grant extension agent Dolan Eversole on an application for Waikīkī to become recognized as a World Surfing Reserve under Save the Waves Coalition. If Waikīkī is designated as a World Surfing Reserve, a stewardship plan will need to be developed, and Marissa will be helping outline what this stewardship plan might look like, in collaboration with key private and public stakeholders in Waikiki.