Republic of the Marshall Islands Extension Specialist
Education
MS Tropical Marine Ecosystem Management, University of the Philippines
BA Sociology, Roanoke College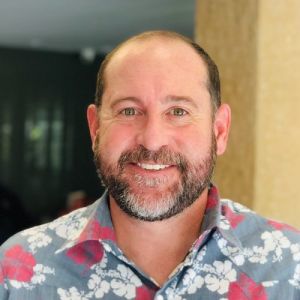 Email:
max.sudnovsky@hawaii.edu
Address:
College of the Marshall Islands
PO Box 1258
Majuro, MH 96960
Max Sudnovsky now serves as the Marshall Islands Coastal Management Extension Faculty for the University of Hawaiʻi Sea Grant College Program, based at the College of the Marshall Islands (CMI). In this role, Max also serves as PacIOOS' liaison and maintains the PacIOOS nearshore sensor at Uliga Dock, helps with the maintenance and recovery of the PacIOOS wave buoy off Majuro, and validates the PacIOOS wave run-up forecast. Max enjoys building partnerships and connecting people to promote collaborations and opportunities. His goals are to improve the relationship between science and management, enhance capacity through research education and outreach, and promote innovators committed to environmental stewardship and sustainability.
Max is no stranger to the Pacific Islands. In a former capacity he worked for NOAA's Pacific Islands Fisheries Science Center Coral Reef Ecosystem Program (CREP) to support marine ecosystem research and conservation throughout the U.S. Pacific. In addition, he implemented intergovernmental scientific and technical exchanges, marine research, and capacity building on fisheries and marine resource management in the Asia-Pacific region through the United States Agency for International Development (USAID). Max received his Master in Tropical Marine Ecosystem Management at the University of the Philippines. In his spare time you will find Max in or on the water, fishing, diving, or talking story.