Education and Community Engagement Specialist
Education
MA Hawaiian Studies, emphasis on conservation and management, University of Hawaiʻi at Mānoa 2011
BA Hawaiian Studies, University of Hawaiʻi at Hilo 2007
Certificates in Marine Science and Pacific Island Studies, University of Hawaiʻi at Hilo 2007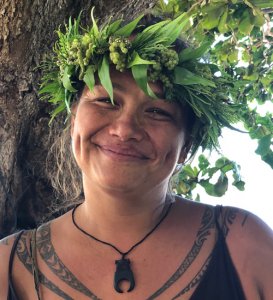 Email:
pelikaok@hawaii.edu
Address:
2525 Correa Rd., HIG 239
Honolulu, HI 96822
Pelika Andrade is a native Hawaiian born and raised on the island of Kauaʻi. She spent most of her adult life living and working on the Big Island and has recently transitioned back to her home island of Kauaʻi. She has a long history in the coastal communities across the Hawaiian Archipelago, first as an island child and later as a professional, teacher, and researcher. She has been involved with many organizations and projects working towards ʻĀina Momona (healthy and thriving communities) through many conservation efforts and lifestyle changes. For the past 12 years, she has been developing alternate approaches to monitoring Hawaiʻi's shoreline and supporting implementation of a management strategy that supports healthy, balanced communities in Hawai'i.
Pelika has served as a program coordinator, education specialist, instructor, and mentor supporting undergraduates, graduates, and community members in integrated STEM research and field experience building strong foundations in our future scientist, managers, and community leaders.
Pelika has a varied background in education, research, fishing, conservation, and business. She has lectured on a range of topics including traditional marine management, voyaging, integration in research, Hawaiian plants and their uses, and digital media arts. Pelika holds a Bachelor's Degree in Hawaiian Studies, certificates in Marine Science and Pacific Island Studies from the University of Hawaiʻi at Hilo in 2007 and a Master's Degree in Hawaiian Studies, with an emphasis on conservation and management, from the University of Hawaiʻi at Mānoa in 2011. She is currently in a PhD program in the College of Education at the University of Hawaiʻi at Mānoa.