Environmental Education Extension Agent, Hanauma Bay Education Program Leader
Education
- MEd Educational Technology, University of Hawaiʻi at Mānoa
- MEd Curriculum and Instruction, University of Hawaiʻi at Mānoa
- BS Biology, Western Washington University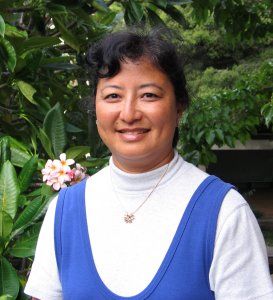 Address:
Hanauma Bay Education Program
100 Hanauma Bay Rd
Honolulu, HI 96825
Elizabeth Maynard is the Environmental Education Extension Agent for the University of Hawai'i Sea Grant College Program (Hawai'i Sea Grant). Her responsibilities include developing relevant learning avenues of ocean literacy for island students and communities, providing expertise in education and extension to the Hawai'i Sea Grant Centers of Excellence, and managing the Fisheries Nupepa Project focusing on the translation of selected fisheries-related materials from Hawaiian language newspapers (ca. 1830's-1940's) in collaboration with other UH faculty. As the Education Leader of the Hawai'i Sea Grant Hanauma Bay Education Program, she is responsible for the administration, development, and implementation of education programs and staff to enhance both visitor and community experiences and the development of education curricula and outreach programs covering natural and cultural resources at Hanauma Bay Nature Preserve.
Maynard earned her bachelor of science degree in biology at Western Washington University, her masters of education in curriculum and instruction – secondary science and in educational technology at the College of Education at the University of Hawai'i at Mānoa.