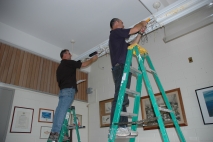 Delamping on the University of Mānoa Campus
It should come as no surprise that the University of Hawai'i at Mānoa (UH Mānoa) campus, which spans 320 acres, requires a lot of energy to maintain. With annual energy bills topping $20 million, improving the energy efficiency throughout the campus is critically important for the future of the university. A recent evaluation by the University of Hawai'i Sea Grant College Program (UH Sea Grant) and the UH Mānoa Office of Sustainability has shown that the university could save approximately $3 million a year by simply changing the lighting throughout campus. With this in mind, UH Mānoa students, administration, faculty, and staff have joined together to launch the Delamping Initiative, an unprecedented collaboration to "green" the UH Mānoa campus.
At the request of the University administration and in partnership with the Facilities Management Office, Office of Sustainability, and individual campus programs and departments, UH Sea Grant is leading the initiative to "delamp" all buildings on the UH Mānoa campus as part of a campus-wide effort to improve energy efficiency. Delamping is the process of removing one or more unnecessary bulbs from existing light fixtures to effectively reduce the energy consumption of the fixtures. In addition to removing light bulbs, in many cases light fixtures are being changed to more energy-efficient models, further reducing the energy consumption of the UH Mānoa campus.
Historically, buildings on campus were designed to be over lit, creating workspaces that use excessive amounts of energy and provide, on average, twice the amount of lighting that people need. Studies on artificial lighting have shown that such over-illumination may cause a range of health issues, from eyestrain to headaches to stress, all of which have negative impacts on productivity in the workplace. By delamping the UH Mānoa campus, the University will not only cut its large demand for electricity, but also create a more comfortable work environment for its students, administration, faculty, and staff.