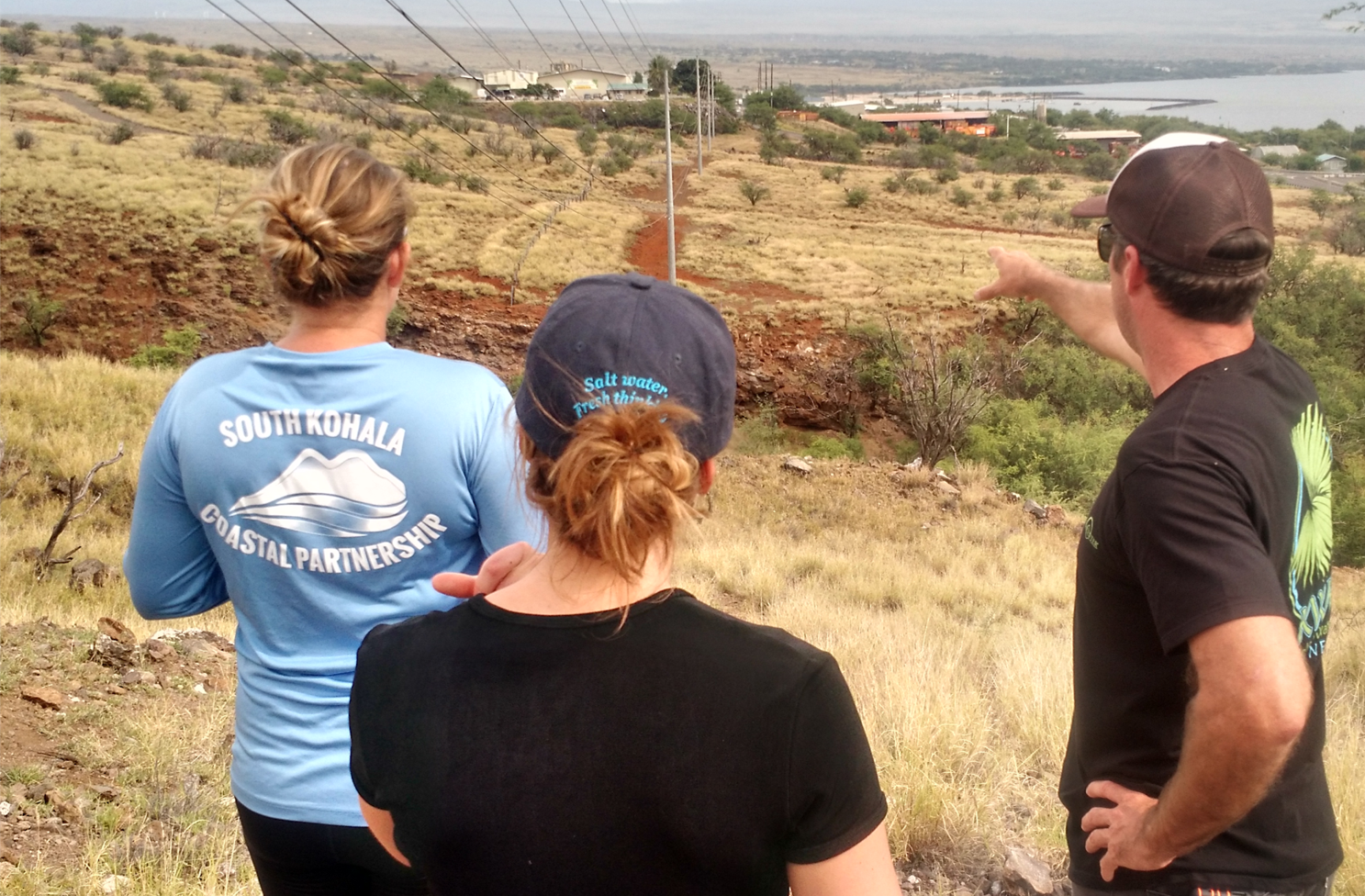 Hawaiian Islands Sentinel Site Cooperative
---
Featured Projects
Erosion Hot Spot Mapping: Sedimentation from erosion is one of the largest threats to coral reef health. Coral reefs buffer shorelines against waves, storms, floods, and impacts from sea-level rise. This study mapped erosion "hot spots" in the watershed draining into Pelekane Bay and provided data on where sediment is being introduced into streams. The project also collected data on what types of rainfall events are likely to produce high levels of erosion and sedimentation in nearshore environments. Data collected as part of this project enables local resource managers to focus restoration efforts in the areas that will have the most benefits to reducing erosion and overland runoff. The HISSC has served as a partner on this project.
Hawai'i Island LiDAR: NOAA and the HISSC worked to identify potential end users of LiDAR data. Eventually a multi-stakeholder funding collaborative contributed more than $1.6 million to support a large scale LiDAR initiative covering much of the island. The LiDAR data was utilized in a geomorphic mapping study completed by the USGS for Pelekane Bay, sea-level rise products and tools in the EESLR project in West Hawai'i, and is currently being used for a Resilient Hawaiian communities plan by the Kailapa Community Association. Partnerships forged during this project also led to an initiative using remote sensing to study coral reefs through NOAA's Integrated Ecosystem Assessment program.
Elevation Data and Extreme Probability Modeling for Critical Infrastructure, Historic Sites, and Cultural Sites in West Hawai'i: West Hawai'i is home to many treasures of Hawaiian history, including the Ala Kahakai National Historic Trail and the Kaloko-Honokōhau National Historic Park. Working with Federal and local partners, the HISSC surveyed areas along the trail to get high resolution elevation data across critical infrastructure. This data was incorporated into a NESDIS extreme probability model to assess the likelihood of inundation from extreme events, and which was delivered to partners at the National Park Service to help with planning for sea-level rise. Sites modeled included: Ali'i Drive, Ala Kahakai Trail, Kaloko-Honokōhau National Historic Park, and Old Airport Park. Through technical support and on-the-ground field work, the HISSC helped fill a data gap that was identified by local managers for greater elevation data and assistance in identifying how future climate scenarios might impact critical ecosystems, including anchialine pools.
Establishing GPS Elevation Points in He'eia and West Hawai'i: This effort established comprehensive elevation points across the He'eia and West Hawai'i priority sites and trained student interns in the use of elevation equipment and processes. In He'eia, this data was used to help meet a science need identified by Kākoʻo ʻŌiwi to measure groundwater levels throughout the wetland areas of the He'eia ahupua'a to better understand how groundwater levels change through time and in response to large storm events. This project resulted in development of a Digital Elevation Model for Heʻeia. The HISSC also conducted a training with resource managers and scientists on how to utilize data generated from the project.
Kūlana Noiʻi: The HISSC collaborated with Hawaiʻi Sea Grant, Kuaʻāina Ulu ʻAuamo, and Paepae o Heʻeia to develop the Kūlana Noiʻi a set of guidelines for building and sustaining long-term relationships between researchers and community. The project team also worked to adapt the best practices outlined in the Kūlana Noiʻi to fit the specific place-based context of He'eia Fishpond. This included a full-day workshop bringing together Principal Investigators leading research projects at He'eia Fishpond with Paepae o He'eia staff. The Kūlana Noi'i quickly attracted interest from community and academic partners beyond He'eia. To date 11 workshops and professional development trainings have been held focused on the Kūlana Noi'i reaching over 300 people. Training in the best practices outlined in the Kūlana Noi'i has been made mandatory for all principal investigators funded by Hawai'i Sea Grant, as well as Hawai'i Sea Grant Graduate Trainee Fellows. The Kūlana Noi'i was directly incorporated into the Request for Proposals for the 2020-2022 Hawaiʻi Sea Grant funding cycle. The Kūlana Noiʻi was designated as a best management practice by the Sea Grant federal re-accreditation review team in 2018.
Hawai'i and Pacific Islands King Tides Project: This project engages everyday citizens in documenting the impacts of King Tides (the highest astronomical tides of the year). Sea-level rise is expected to exacerbate the frequency and intensity of high tide flooding. By observing and documenting the local impacts of King Tide events we can gain valuable insight into what our shorelines may look like in the future with rising sea levels. More than 330 citizen scientists have participated in this effort submitting 2,750 photographic records to the project database. Photographs have been incorporated into local policy and planning documents including the Hawai'i Sea Level Rise Vulnerability and Adaptation Report. The project team partnered with PacIOOS to develop a web based photo submission platform and interactive map to display project data.
Heʻeia Mangrove Island Removal and Water Quality Improvement Project: This project removed the invasive mangrove vegetation from the island in Heʻeia Fishpond and replaced it with native plantings in order to eliminate egret habitat and reduce inputs of harmful nutrient and bacteria pollution to Heʻeia waterways. The project also included a research component to monitor impacts of restoration on water quality parameters and circulation in the fishpond and an outreach component to educate area residents on actions they can take to reduce runoff pollution and improve water quality.
---